🎉Time for a Fiction Friday GIVEAWAY!
🐝If you are looking for an intriguing, moving & deeply felt story for yourself or your book club to discuss this summer, (not to mention that it's cover is stunning!) look no further. 'The Hive' will have everyone buzzing once it's released this Tues, 6/8. 'The Hive' is a coming of age/family fiction novel about class in a politically divided country, the love & burden of family businesses, bees, & apocalyptic prepping.
📖A story of survival, sisters, and secrets…
📖The Fehler sisters wanted to be more than bug girls but growing up in a fourth- generation family pest control business in rural Missouri, their path was fixed. The family talked about Fehler Family Exterminating at every meal, even when their mom said to separate the business from the family, an impossible task. They tried to escape work with trips to their trailer camp on the Mississippi River, but the sisters did more fighting than fishing. If only there was a son to lead rural Missouri insect control and guide the way through a crumbling patriarchy.
📖After Robbie Fehler's sudden death, the surprising details of succession in his will are revealed. He's left the company to a distant cousin, assuming the women of the family aren't capable. As the mother's long-term affair surfaces and her apocalypse prepper training intensifies, she wants to trade responsibility for romance.
📖Facing an economic recession amidst the backdrop of growing Midwestern fear and resentment, the Fehler sisters unite in their struggle to save the company's finances and the family's future. To survive, they must overcome a political chasm that threatens a new civil war as the values that once united them now divide the very foundation they've built. Through alternating point-of-views, grief and regret gracefully give way to the enduring strength of the hive.
🐝'The Hive' is such a rich, complex & deeply felt novel that deals w/ family dynamics, feminism, grief, regrets, secrets, & coming to terms w/ an ever changing & fast moving world that waits for no one. With well-written, flawed & relatable characters (& there's even one main character w/ my name as well!), 'The Hive' draws you in right from the get go & immerses you into the atmospheric, amazing & eccentric world of the Fehler sister's.
🦋Thank you @melissascholesyoung for my gift copies of the book (🐝which arrived in a super cute bee-themed bubble wrapper!) & for sponsoring this giveaway! I have one copy to give away to one lucky reader. (**Please note, this giveaway is on Instagram & the following information is for info-sakes only. You can enter the giveaway by clicking HERE. Be sure you are following me on Instagram as well in order to be eligible.)
🐝To enter:
1- LIKE this post.(on Instagram)
2- Must be following @mom_loves_reading & @melissascholesyoung
3- Tag a couple bookish pals (Unlimited entries, 2 tags per comment)
**Bonus 5 entries each:
4- Comment what book you are currently reading & any thoughts you have on it.
5- SHARE to your stories & tag me (can do daily).
🦋Click HERE to enter the giveaway on Instagram. You can also click HERE to visit/follow Mom Loves Reading on Instagram.
🐝Click HERE to add 'The Hive' to your Goodreads lists.
🦋Click HERE to visit Melissa Scholes Young's website.
🐝Click HERE to pre-order or find 'The Hive' at an Independent Book Store near you or online.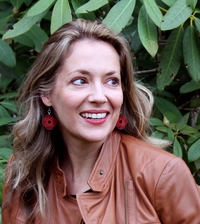 Melissa Scholes Young is the author of the novels The Hive & Flood, & editor of Grace in Darkness & Furious Gravity, two anthologies by women writers. She is a contributing editor at Fiction Writers Review, & her work has appeared in the Atlantic, Ms., Washington Post, Poets & Writers, Ploughshares, Literary Hub & elsewhere. She has been the recipient of the Bread Loaf Bakeless Camargo Foundation Residency Fellowship & the Center for Mark Twain Studies' Quarry Farm Fellowship. Born & raised in Hannibal, Missouri, she is now an associate professor in Literature at American University.
Follow her on Twitter: @mscholesyoung Instagram: @melissascholesyoung
Facebook: facebook.com/melissascholesyoung/
Website: melissascholesyoung.com, thehivenovel.com