📚The October BOTM's are up!! (Click HERE to visit my Instagram post & give it some LIKE love!)

📚It's that time of the month that all of Book of the Month book club members look forward to! Constantly refreshing our browser every so often on those last couple days of the month, when BOTM generally releases the 5 new books & a few new add-on selections.
📚A long time member & fan of Book of the Month club, I get so excited to see what books they have selected for us each month. I skipped the last 2 mos because I already had the books that I wanted from the Aug/Sep selections from the publishers. So I was extra stoked to see what would be available for me to choose for October.

Once again, they are some goodies! The books are: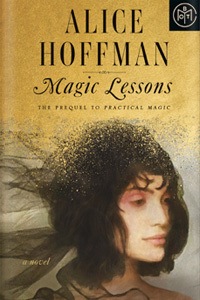 'Magic Lessons':
Where does the story of the Owens bloodline begin? With Maria Owens, in the 1600s, when she's abandoned in a snowy field in rural England as a baby. Under the care of Hannah Owens, Maria learns about the "Unnamed Arts." Hannah recognizes that Maria has a gift and she teaches the girl all she knows. It is here that she learns her first important lesson: Always love someone who will love you back.
When Maria is abandoned by the man who has declared his love for her, she follows him to Salem, Massachusetts. Here she invokes the curse that will haunt her family. And it's here that she learns the rules of magic and the lesson that she will carry with her for the rest of her life. Love is the only thing that matters.
'Leave the World Behind': Amanda and Clay head out to a remote corner of Long Island expecting a vacation: a quiet reprieve from life in New York City, quality time with their teenage son and daughter, and a taste of the good life in the luxurious home they've rented for the week. But a late-night knock on the door breaks the spell. Ruth and G. H. are an older Black couple—it's their house, and they've arrived in a panic. They bring the news that a sudden blackout has swept the city. But in this rural area—with the TV and internet now down, and no cell phone service—it's hard to know what to believe.
Should Amanda and Clay trust this couple—and vice versa? What happened back in New York? Is the vacation home, isolated from civilization, a truly safe place for their families? And are they safe from one another?
'The Girl in the Mirror': Twin sisters Iris & Summer are startlingly alike, but beyond what the eye can see lies a darkness that sets them apart. Cynical & insecure, Iris has long been envious of Summer's seemingly never-ending good fortune, including her perfect husband Adam. Called to Thailand to help her sister sail the family yacht to the Seychelles, Iris nurtures her own secret hopes for what might happen on the journey. But when she unexpectedly finds herself alone in the middle of the Indian Ocean, everything changes. When she makes it to land, Iris allows herself to be swept up by Adam, who assumes that she is Summer.
Iris recklessly goes along with his mistake. Not only does she finally have the golden life she's always envied, w/ her sister gone, she's one step closer to the 100-million-dollar inheritance left by her manipulative father. All Iris has to do is be the first of his seven children to produce an heir. Iris's "new" life lurches between glamorous dream & paranoid nightmare. On the edge of being exposed, how far will she go to ensure no one discovers the truth? And just what did happen to Summer on the yacht? Only Iris knows…
'Ties That Tether': At 12 yrs old, Azere promised her dying father she would marry a Nigerian man & preserve her culture even after immigrating to Canada. Her mother has been vigilant about helping—forcing—her to stay well within the Nigerian dating pool ever since. But when another match-made-by-mom goes wrong, Azere ends up at a bar, enjoying the company & later sharing the bed of Rafael Castellano, a man who is tall, handsome, & white.
When their one-night stand unexpectedly evolves into something serious, Azere is caught between her growing feelings for Rafael & the compulsive need to please her mother who will never accept a relationship that threatens to dilute Azere's Nigerian heritage.
Azere can't help wondering if loving Rafael makes her any less of a Nigerian. Can she be w/ him without compromising her identity? The answer will either cause Azere to be audacious & fight for her happiness or continue as the compliant daughter.
'The Invisible Life of Addie Larue':
France, 1714: in a moment of desperation, a young woman makes a Faustian bargain to live forever―and is cursed to be forgotten by everyone she meets.
Thus begins the extraordinary life of Addie LaRue, & a dazzling adventure that will play out across centuries & continents, across history & art, as a young woman learns how far she will go to leave her mark on the world.
But everything changes when, after nearly 300 years, Addie stumbles across a young man in a hidden bookstore & he remembers her name.


📚If you have been on the fence about joining BOTM, I encourage you to do it now! There are some GREAT books to choose from & w/ some excellent fall releases coming, you will be able to get in on that readerly action before your non-BOTM friends. You get a special intro price for your first BOTM & then you'll be on your way to being a BOTM BFF like me! (**Please be advised, BOTM is currently only available for shipping within the 50 United States.)
📚Once you've rcvd 12 BOTM monthly boxes, you are officially a BFF. With that new title comes great things: a FREE BOTM tote bag, a FREE BOTM add-on during your bday month & a FREE book at the end of the year from the Book of the Year finalists. It's pretty freakin' awesome!

📚Many of the books each mo. are Early Releases, meaning you can get books a mo. or more before the gen public! Full-sz hardback books for nearly HALF of what you'd pay elsewhere & well-curated selections of various genres. A little something for everyone! You can add-on other books for even LESS (up to 3 books total per mo) & you can skip any month you choose to. Click HERE for my referral offer & get your first book for only $9.99!
📚Some of this mos new add-ons include 'Invisible Girl' by Lisa Jewell, 'Practical Magic', Elin Hilderbrand's 'Troubles in Paradise', & more! So, what looks good to you this month? All of them, right!?😉 (Don't forget, once you add a monthly BOTM, go back & check out all of the available add-ons. There are new ones addes all of the time! Some are newer, some are classics!
Click HERE to use my special code & join me in becoming a Book of the Month club member!